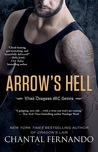 Arrow's Hell
by
Chantal Fernando
My rating:
4 of 5 stars
After finishing Dragon's Lair, I dove right into this one. This was a wonderful stand-alone if I've ever read one, but that threw me a bit as the ending of Dragon's Lair was anything but standalone. I had hoped that we would learn more of Faye and Sin, the big events that we missed in the end, but they made only small cameos throughout the book. This story was centered on Arrow, Rake, and Rake's sister Anna. Odd that I would word it that way, but the story seemed to be just as much about Anna reconnecting with her big brother as it was about her desire for Arrow.
Set 5 years after the death of Mary, Arrow hasn't forgiven himself for luring a good woman in to the MC life. He refuses to allow happiness into his life, because he doesn't feel he deserves what Mary couldn't have. And for all intents and purposes, he has decided to give her in death what he couldn't give her in life.
Enter Anna, the sexy baby sister of one of the brother's (Rake). Arrow knows she's off limits for that reason alone, not to mention that she is smart, funny, sweet, and feisty. All things that a man who lured a woman to her untimely death doesn't deserve. Anna is of a different mind, though, and it quickly becomes clear that she is made for him. Also that he is the only one who believes he's unworthy of happiness.
I loved that this book contained humor, a spunky woman able to hold her own under any circumstances, and the message that "sometimes you have to make your own family". This was a sentiment Dex/Sin shared with Faye in book 1, and Rake explained to Anna. I also appreciated that there were no time lapses, and the development of their relationship was very, thorough. My only complaint would be that Anna's thought process was much younger than her actions, and even her speech. I felt like there was a level of "fluff" when we were given insight into her mind, because she would circle around and word the same thought several different ways in the same paragraph. Aside from that, I would have given this book 5 stars, and still wish there was a half star option, as this book was good enough that I could not put it down and finished in one sitting.
View all my reviews